Copper Beech planted 1604...age 408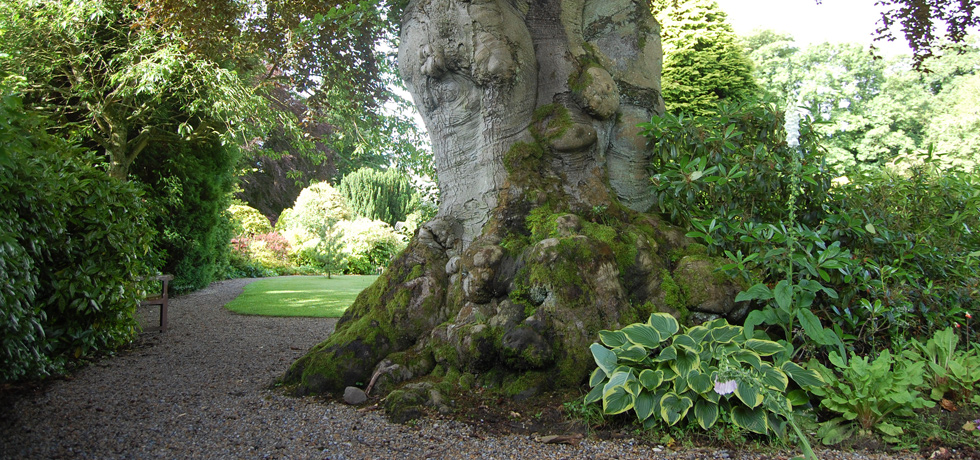 Stump Garden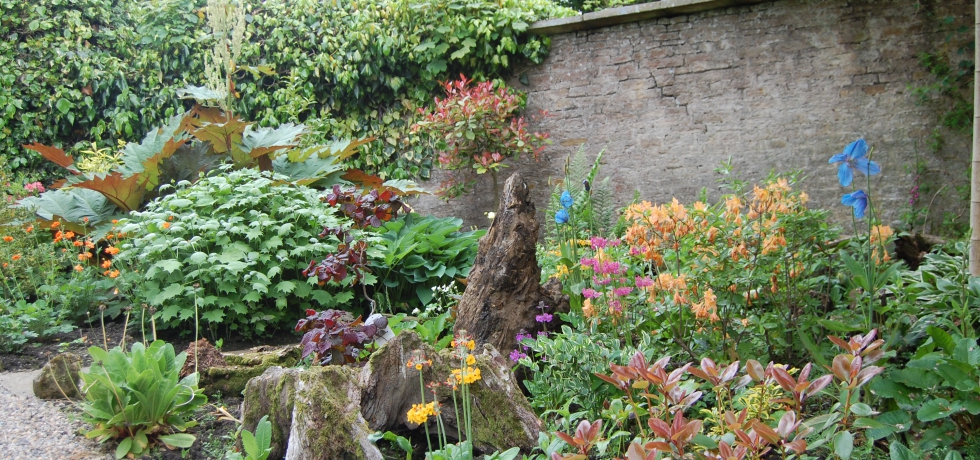 Winding path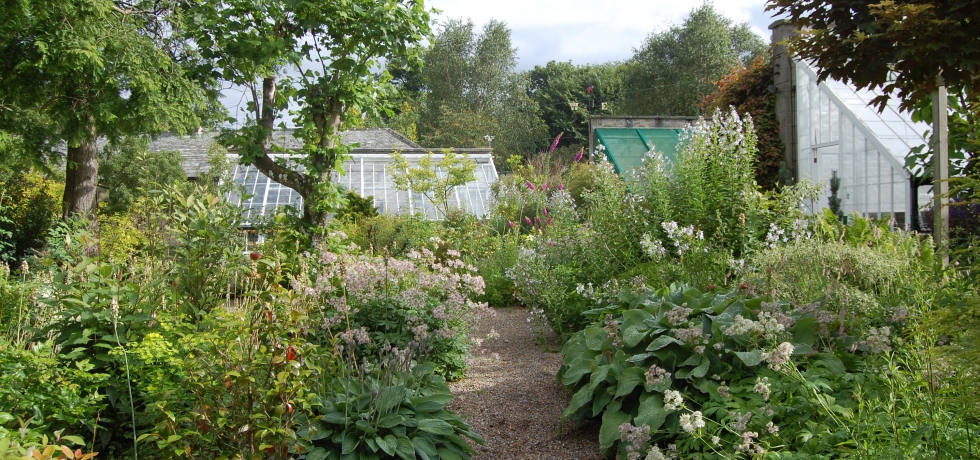 Finn (Jack Russell) looking at Onopordum (Scotch thistle)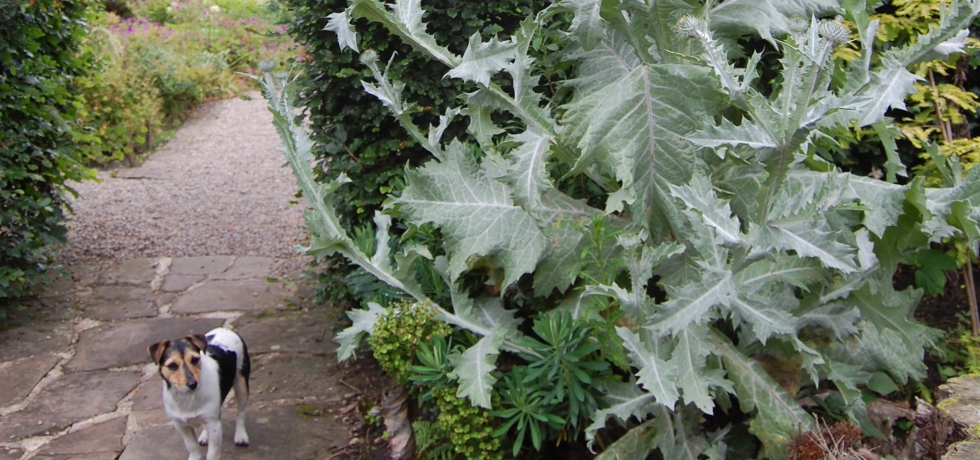 Viburnum plicatum by stream and bee hives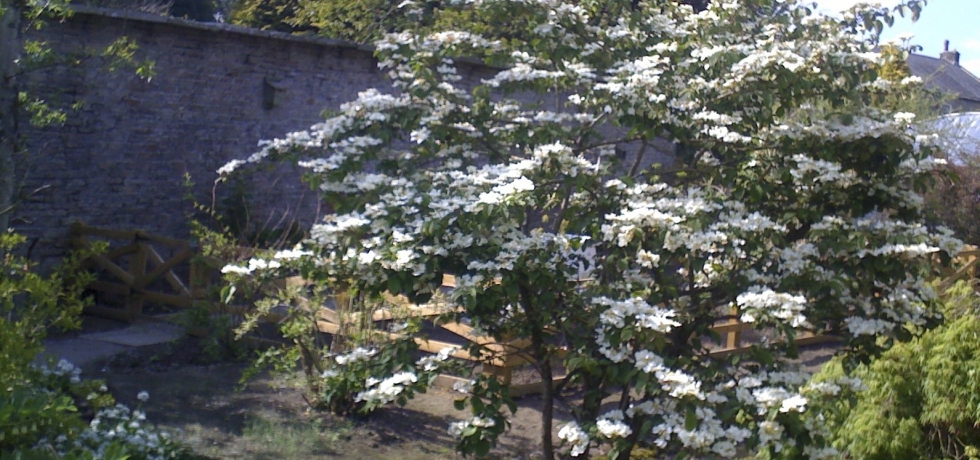 Autumn overlooking the shop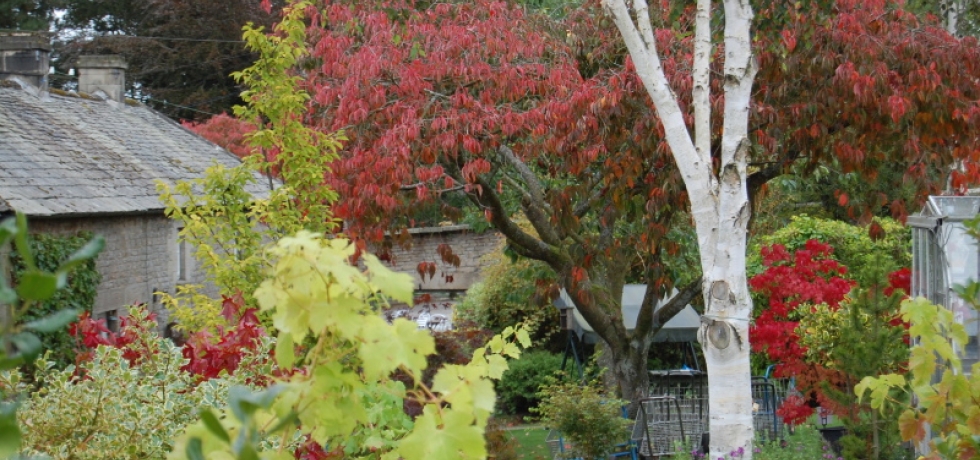 A late summer display
Our Potting Shed; The heart of the Nursery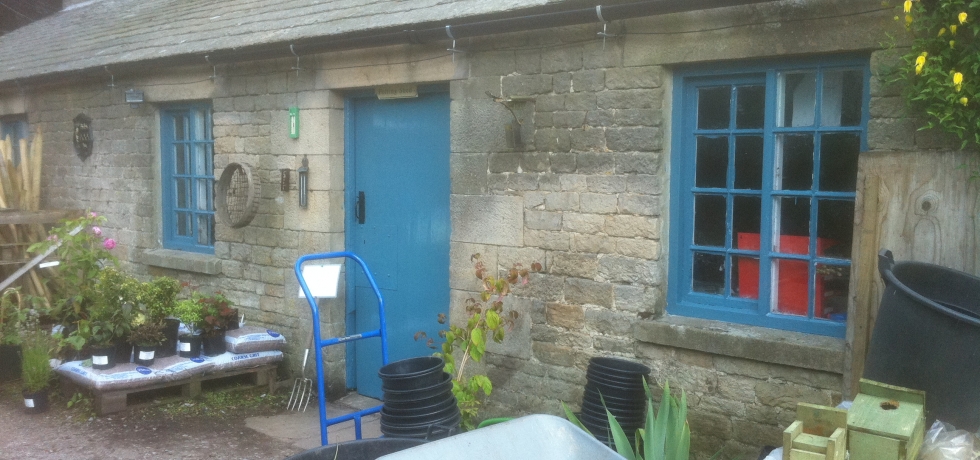 Fine flush of mushrooms and a pretty gnome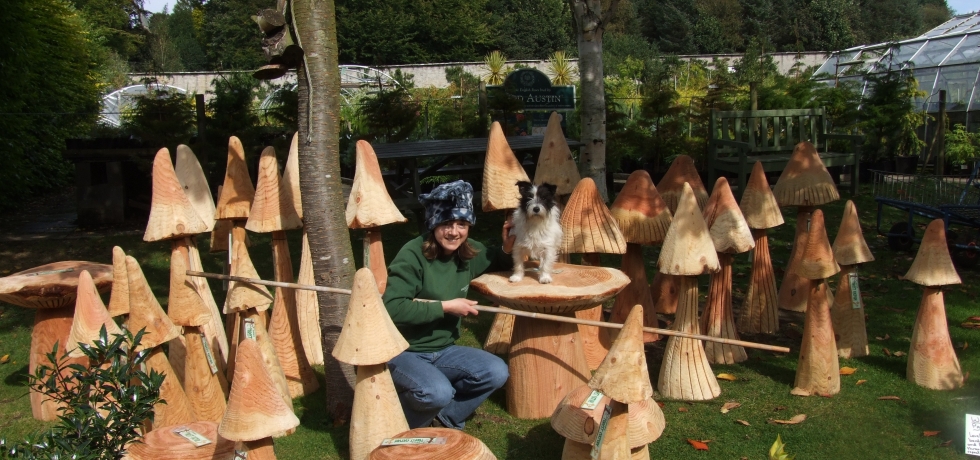 Delphiniums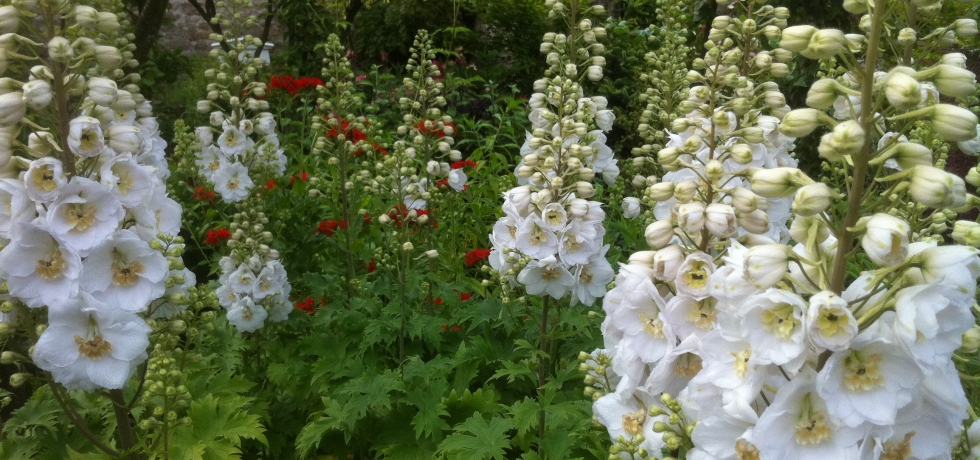 Brian and friend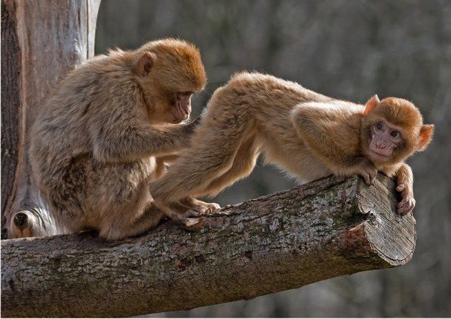 Inside our ruined chapel. Built around 1600. Earliest stone dated 1607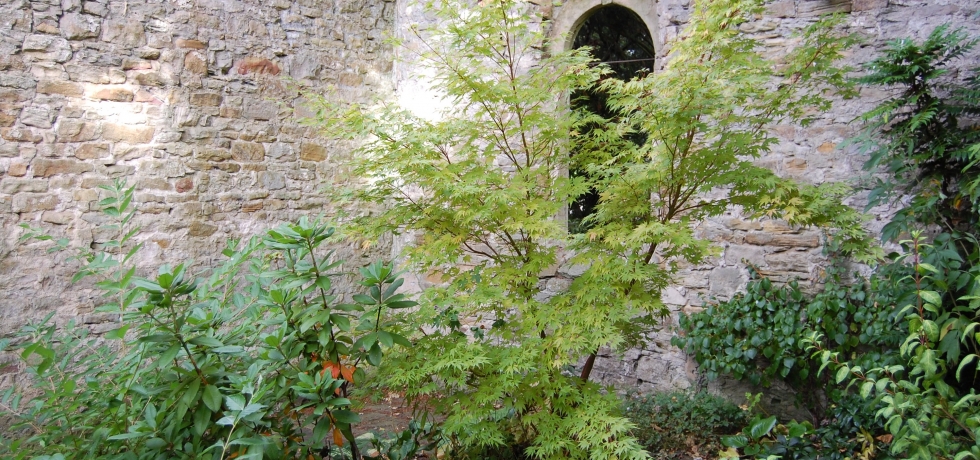 A Katsura in the Chapel grounds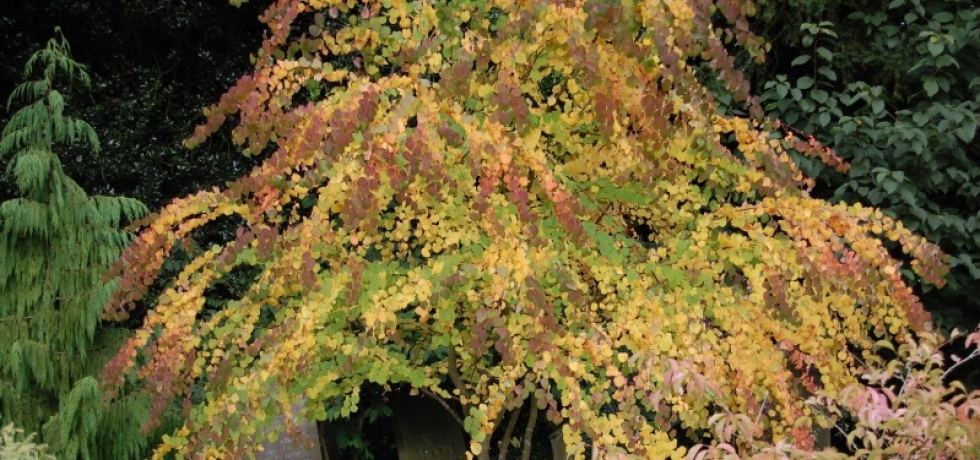 The pleated leaves of Veratrum album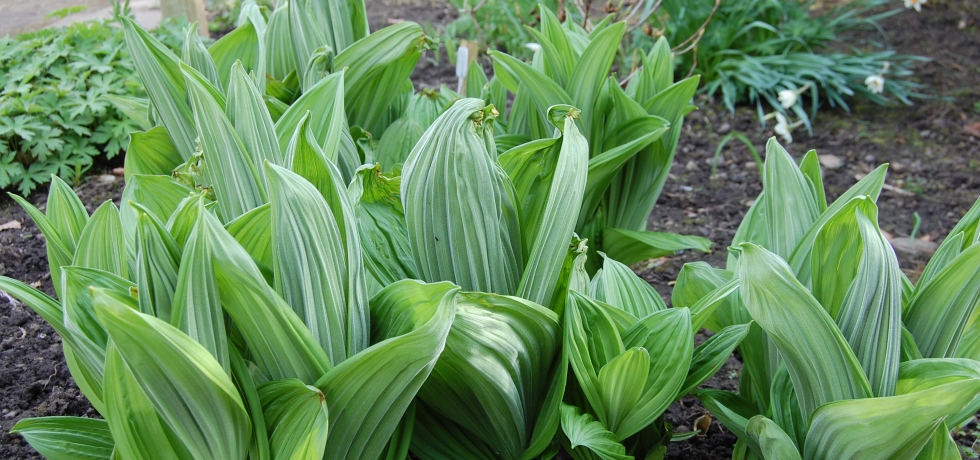 Malcolm, Gordon and Molly 2001
Japanese maples growing on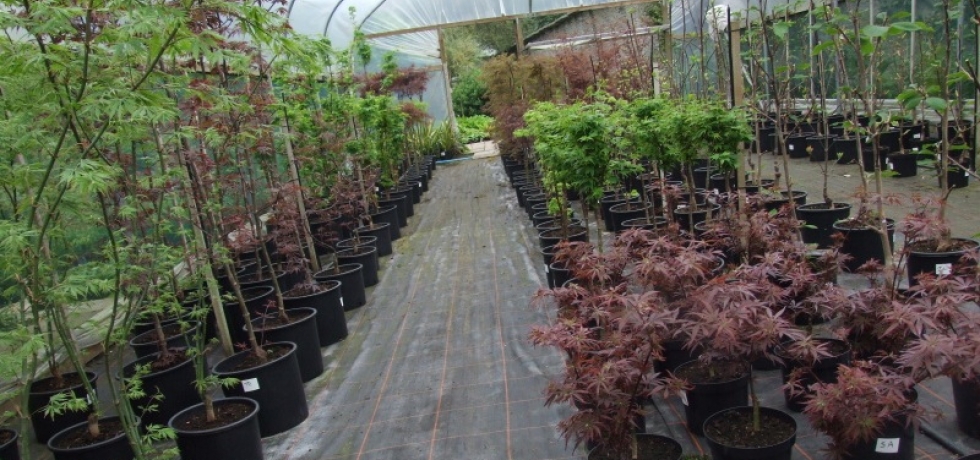 Acer shirasawanum Aureum...The Full Moon Maple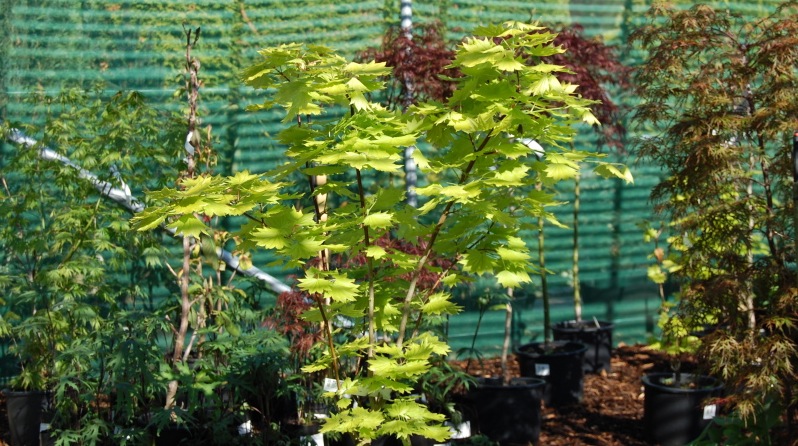 Acer palmatum Seiryu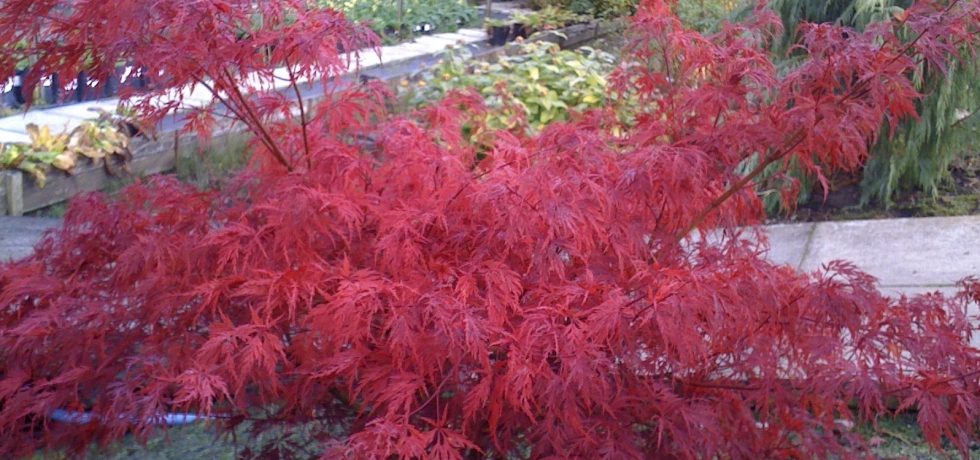 Acer Osakazuki, Prunus Kanzan, and Betula jacquemontii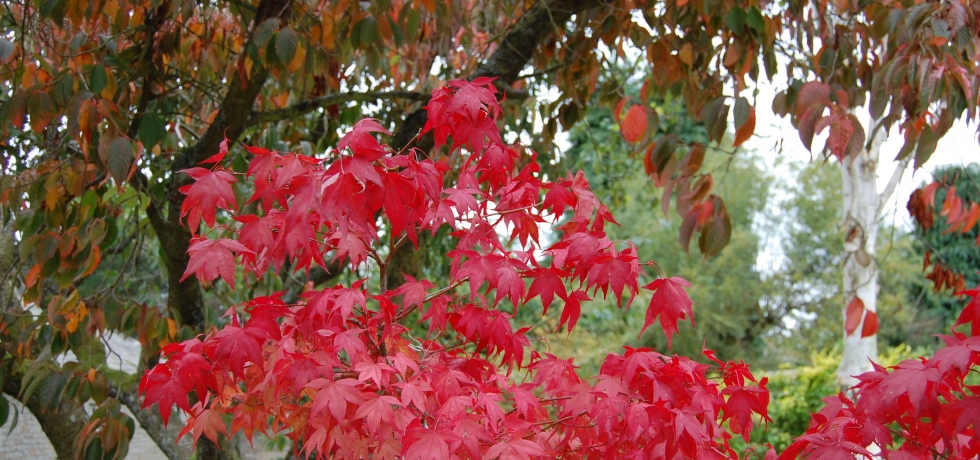 Tucker; Organic rabbit control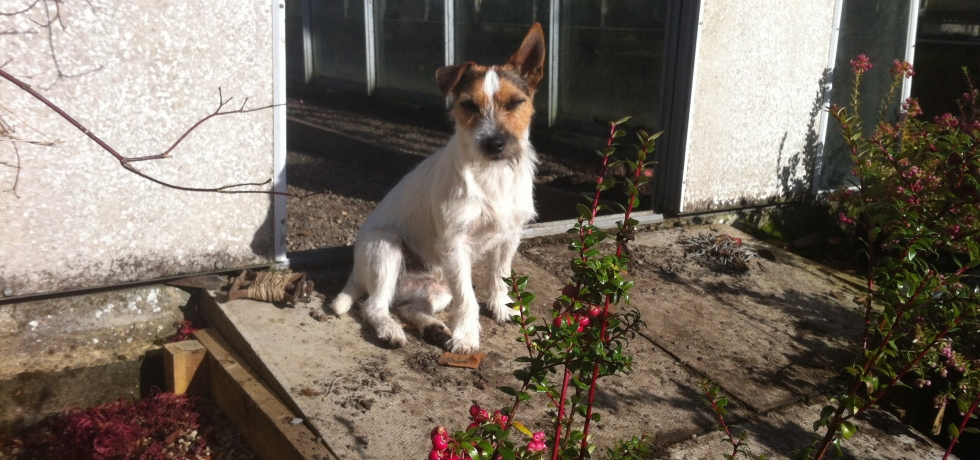 The Eggleston Hall Gardens Walk
Welcome to Eggleston Hall Gardens;
THE WALK BY NUMBERED STONES
Outside the garden shop, atop a chimney pot...
There sits an honesty box...in which you will hopefully leave your admission!
At the base is a stone numbered 1...It is the first of 22 which guide your route around the gardens. The first 6 stones take you by herbaceous borders, lawns, and a wishing pool. Stones 7 to 14 follow winding paths amongst shrubs, trees and perennials. Remember to detour through the little wooden gate and drop down into our secret churchyard. The ruined chapel dates back to 1612 and the gravestones reflect this, amongst them are growing some of our rarest plants.
Stone 14 begins the tour of our upper gardens, following the stream past beehives and borders you will reach a pottager garden and our famous replica of The Angel of the North.
Stone18 to 22 will guide you past ancient espaliered fruit trees that clothe much of the tall stone walls, whose radiated heat provides free winter protection for young cuttings and plants. At the top arbour have a sit or simply look back over the gardens, on a clear day you will be treated to the finest views of Teesdale, one of England's secret dales, beautiful, sentinel, and permanent, the rocks of ages in which we live and work, as over four centuries we gardeners and those before us at Eggleston Hall Gardens, go quietly about our tasks.
IN ADDITION
Over the years we have been described as many things "The Jewel amongst the Hills" a "Timeless Place" even  "The Secret Garden of the North" and it was recently written that a visit to Eggleston Hall Gardens was like "Stepping back in Time."
None of us know if these descriptions are true, all we know is there is work to be done, borders to tend, stock to maintain, and thousands of plants to propagate and grow on for our customers. For above all else we are a working garden and nursery, one of the diminishing band of independents who have refused to gear up to Garden Centre trends.
Our philosophy is simple; Let the plants do the talking.
We are, after all, a nursery. A place for the growing of plants. As such we don't give a stuff for whistling gnomes, outdoor wear, plastic herons, flowerpot men, or those annoying little dogs arses that are meant to look cute in your garden. We don't do cute. We do plants, and damn good plants at that.
Our gardens supply the potting shed with ample material for propagation purposes, and in 2012 we embark on a complete overhaul and replanting of the borders. Over the next couple of years our stock will become almost entirely derived from plants within the garden walls, plants that you the visitor can see growing, can touch, smell, and observe in a natural setting and in a quite harsh environment. If it does with us it will likely do with you, because Eggleston plants are hardy plants.
Nurserymen owe much to plant hunters, who, over the years have risked life, limb, and sanity to bring to these islands some of the most beautiful plants in the horticultural world. We owe them a great debt, for without their vision, foresight and tenaciousness our gardens would be the lesser, clothed and restricted by a bland wardrobe of 'native' plants...whatever native may mean. It has always fascinated me the age at which some of these collectors ended their lives.
John Tradescant.....54
John Fraser.....59
David Douglas.....36
William Lobb.....54
J.G. Veitch.....41
Charles Maries.....53
E.H Wilson.....54
George Forrest.....59
Reginald Farrer.....40
Not one would have collected their bus pass or drawn their pension!
I will leave the final words on this home page to Reginald Farrer (1880-1920), who introduced so many species of Rock Plants and Rhododendrons in his short eventful life, along with, Rodgersia aesculifolia; Lonicera syringantha; Potentilla fruticosa; Viiburnum farreri and Gentiana farreri......
I think the true gardener is a lover of his flowers
Not a critic of them.
I think the true gardener is the servant of nature
Not her truculent master
I think the true gardener, the older he grows
Should develop a more humble, grateful,
and uncertain spirit.
.....Reginald Farrer, In a Yorkshire Garden, 1909